Paramedics take injured victim to hospital after assault in Chingford.
Click to follow
The Independent Online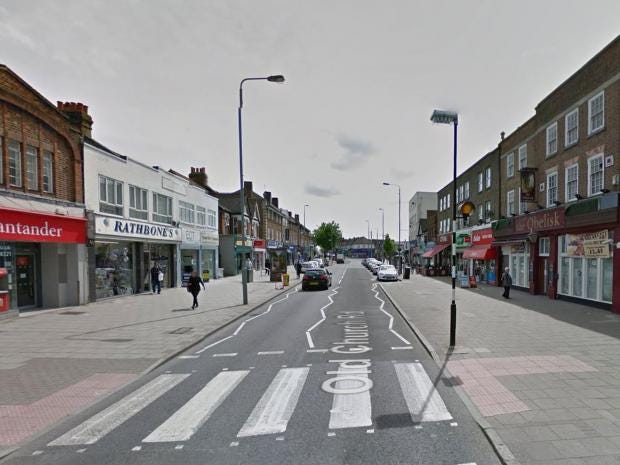 A Muslim woman has been dragged along the pavement by her hijab in a "horrific" Islamophobic attack in
London
.
The Metropolitan Police said two white teenagers launched the unprovoked assault in Chingford as she walked down a popular shopping street.
Witnesses said the attackers attempted to rip the woman's hijab off, pulling her down to the ground before fleeing the scene at around 8.30pm on Wednesday.
A waiter at a nearby Turkish restaurant said they saw her struggling into a chair outside on their terrace.
"We thought she was a customer so went out to ask what she would like, but she was shaking and crying - she said she was attacked," he told The Independent.
"They tried to take off her headscarf and she was dragged down and along the floor. We had to help her to walk to get her inside."
The man, who did not want to be identified, said the victim was distressed as she waited for a response to her 999 call inside the restaurant.
"I've never heard of anything like this around here," he added. "Whoever attacked her might have other connections with other people, we don't know".
Paramedics from the London Ambulance Service were called to treat the victim for her injuries and took her to hospital.
Monitors have reported a rise in hate crime allegations across the UK following the EU referendum, against minority groups including Muslims, Jews,
immigrants
and the
LGBT community
.
Figures released by the National Police Chief's Council showed reported
incidents soared by 58 per cent
in the week following the vote for Brexit and levels have remained high ever since.
Tell Mama, an anti-Islamophobia group, called the latest incident "horrific" and said women were being disproportionately targeted in attacks on Muslims.
"For years data collected by us has shown that visible Muslim women are the ones most targeted for street based anti-Muslim hatred," a spokesperson said.
"And that most of the perpetrators are male, ahead between 13-35. Anti-Muslim hate at a street level must be seen as male on female abuse."
A spokesperson for the Metropolitan Police said it was committed to tackling hate crime "in all its forms", working with Tell Mama as well as the Jewish Community Security Trust (CST) for anti-Semitic incidents.
"The service has long since recognised the impact of hate crime on communities and the hidden nature of this crime, which remains largely under-reported," he added.
"Positive action is taken to investigate all hate crime allegations, support victims and their families and bring perpetrators to justice."
Police are appealing for witnesses to the assault in Old Church Road, Chingford, on 14 December. No arrests have been made.
The suspects are described as two white males, aged 17 to 19. They were wearing all black clothing.
People are sick and tired of Muslims in Great Britain and they are starting to fight back any way they can. The British people are sick and tired of Muslims demanding that Christmas is banned and they are sick and tired of hearing what Muslims are going to do when they take over our once great country.
Everyday you read something in the papers about Muslims preaching their hate, we read that Muslims are going to make Girls from the age of six years old have FGM female genital mutilation. FGM means the child having her clitoris cut out with a razor blade and a knife, while fully awake.
One Muslim radical (all Muslims are radicals) said when Muslims take over, all White children from the age of six years old up to twelve years old, will be taken from their homes and sold to Muslims as their slaves.
Muslims are also going to bring in Sharia law, which means there will be Hangings, Beheadings and people being stoned to death. Gay's will be thrown on tall buildings to their death, just like they are doing in Muslims countries.
In a documentary shown on TV about Muslims, Children were shown being kicked and punched by their teachers in a Mosque. One Muslim woman dressed from head to toe in Muslim dress was telling her female students, that they should kill ALL none Muslims, she also told them that they can pretend to be friends with a none Muslim to gain their trust, then they can ask their pretend friend to become a Muslim and if they refuse, kill them.
Most of Great Britain and Europe and brainwashed in to thinking that Muslims are not a threat to anyone, this is NOT true, they are a danger to each and everyone of us. The White English people are now a Minority in their own country. We MUST fight back, because if we don't, we will be letting our children and grandchildren walk in to certain death in just a few years from now.